EL REY NETWORK'S NEW MARTIAL ARTS SERIES 'BUSHIDO BATTLEGROUND'
TO DEBUT WEDNESDAY, OCTOBER 18TH AT 10:00PM ET
Watch Preview: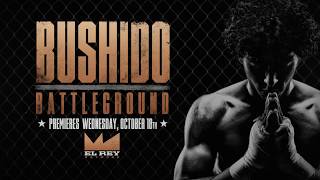 Bushido Battleground
Bushido Battleground

Expanding El Rey's slate of adrenaline charged event programming, "Bushido Battleground" combines documentary with fights that are 100% real. Each episode is a multifaceted sporting event filmed at locations around the world including Thailand, Mexico, Canada and Los Angeles. The first episode, "Rumble at the Border," debuts October 18th at 10:00pm and features MMA Fighters Chris "Taco" Padilla and Ivan "Choko" Castillo who square off in a match at the historic Plaza De Toros Bullfight Arena in Tijuana, Mexico. "Bushido Battleground" is hosted by former NFL safety Tony Parrish and former mixed martial artist Nate Quarry. Executive producers of "Bushido Battleground" are George Chung and Andy Horne. Chung is the CEO and co-founder of JUNGOTV and is a former five-time world martial arts champion and member of the Black Belt Hall of Fame. Horne was co-producer on "Blade" and "Blade II" and developed "La Femme Nikita" and the animated series "Spawn". Martial artist and actor Michael Jai White (Spawn) will narrate El Rey Network's "Bushido Battleground," the new, twenty-episode series showcasing elite fighters from around the world in Mixed Martial Arts, submission Jiu Jitsu, full contact Kick Boxing and Muay Thai. The series will debut on Wednesday October 18th at 10:00pm ET.